Whiplash Treatment with our Kennesaw Chiropractor


If you have been in an auto accident, our Kennesaw chiropractor evaluates your condition and provides effective treatments. The recovery team at Exodus Health Center uses natural healing to ease your whiplash symptoms and restore your body to health. If you live in the Kennesaw, Marrietta, Cartersville, Acworth or surrounding communities, we encourage you to visit us soon to alleviate chronic health concerns.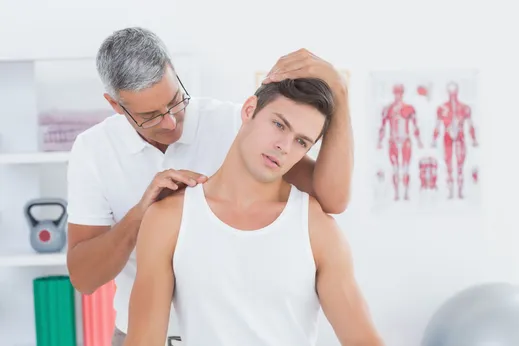 The symptoms of whiplash may not appear immediately after your auto accident. Even if you not feeling any discomfort, our chiropractic team, Dr. Andrew St. Bernard, Dr. Shannon Good and Dr. David Jockers evaluate your neck and back to determine if your spine was impacted during the injury. Then, our chiropractors develop an effective chiropractic care plan to heal your whiplash symptoms quickly. Whiplash symptoms to watch for include:
- Neck pain and discomfort; possibly swelling of the tissues
- Limited ability to turn your head or nod your head
- Headaches that are lasting or intermittent
- Sensitivity to lights or difficulty focusing your vision
- Upper back pain or shoulder pain
- Dizziness or nausea depending on the severity of your injuries
Chiropractic Care for Whiplash in Kennesaw, Marrietta, Cartersville and Acworth
Our Kennesaw chiropractic team uses your body's natural abilities to recover from whiplash. Our primary focus is aligning the vertebrae of your neck and upper back into a pain-free position. This alleviates pressure on the nerves and discs between the vertebrae and immediately reduces your pain.
Chiropractic adjustments are gentle. Our skilled chiropractors use appropriate force to manually position your spine for recovery. This may include adjustments to your neck, upper back and lower back to restore healthy nerve and circulation flow.
Our health team shows you corrective exercises to stretch and strengthen the muscles supporting your neck. These muscles may have been over-stretched when your head whipped forward and backward during the collision. Gentle exercise encourages muscle healing and repair.
Our holistic approach also combines nutritional support to boost your body's ability to recover. We evaluate your dietary intake to ensure you are receiving the proper nutrients to heal whiplash. As you recover, you may also notice an improvement in your overall health, wellness and immune system response.
Included in our healing care plan is lifestyle guidance to help you reduce pain on a daily basis. We educate you on ways to set up your work areas, sleeping arrangements and computer monitor heights to eliminate strain on your neck and upper back. We show you how to maintain proper posture throughout the day so your body remains in a healthy alignment.
Contact us Today for Whiplash Treatment
After an unexpected auto accident, do not live with the pain and limited mobility of whiplash. Let our Kennesaw chiropractors provide immediate and lasting treatments for your pain. We remind you to call us soon after your incident for effective care and healing. To schedule your appointment or your evaluation, please contact Exodus Health Center at 770-420-0492.