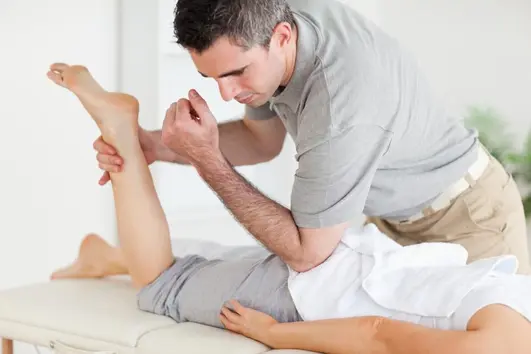 Do you suffer from sciatica in Marrietta Cartersville, Kennesaw, or Acworth? If so, you may be interested in trying a natural method to reduce inflammation and alleviate pain without needing daily medication. At Exodus Health Center we can relieve sciatica pain naturally. If it is your first visit to our Kennesaw GA chiropractic clinic, take 60 percent off your first visit!
What are the Symptoms of Sciatica?
The main symptom of sciatica is pain that runs from your hips and low back down the back of your legs. People typically experience sciatica symptoms in one side of the body, although some individuals can feel sciatica pain on both sides, some feel pain in the buttocks.
The pain may feel sharp or dull; it may get worse at certain times of the day or when sciatica sufferers perform certain motions. It can take the form of a pins and needles sensation, or a burning sensation, as well. Along with pain, sciatica can cause muscle weakness and muscle spasms. Sciatica pain makes it difficult to do everyday activities.
What Causes Sciatica?
When your sciatic nerve becomes compressed, you develop sciatica. There are many ways that this nerve compression can happen.
Our chiropractor will determine what caused your sciatic nerve compression, so we can provide the appropriate treatment.
Causes of sciatic nerve compression include:
Bone spurs
Herniated disc
Injury
Lumbar spinal stenosis
Spinal subluxation
Degenerative disc disease
Pregnancy
Once we identify the underlying causes, we can provide effective treatment so your sciatica symptoms do not return.
How Our Kennesaw GA Chiropractor Treats Sciatica
We use chiropractic adjustments to reduce inflammation of the sciatic nerve. While it will take several adjustments to fully restore nerve function, many patients feel less pain after their first chiropractic adjustment.
As we reduce inflammation of the sciatic nerve, your sciatica symptoms will naturally reduce.
Once we have eliminated your pain, we will restore the integrity of your spine.
By treating a slipped disc using chiropractic, we can ensure you do not experience a relapse.
One cornerstone of our chiropractic clinic is lifestyle and nutrition advice to help you walk in wellness every day. You may be unknowingly making your symptoms worse through our lifestyle advice coaching.
This is just one of the signature ways that our chiropractic team tailors treatment to individual patients rather than taking a one size fits all approach.
Corrective exercises improve your mobility and flexibility, so you can restore your back mobility without sciatica pain.
To support your journey to recovery, we offer nutritional counseling and shopping tours. When you eat right, you feel better. We'll help you.
If you seek a holistic, natural treatment for sciatica symptoms, come give chiropractic a try!
To reserve your appointment with our chiropractic clinic serving Marrietta Cartersville, Kennesaw, and Acworth, call us at 770-420-0492 or use the sign-up form on our website. Mention our new patient special to receive 60 percent off your visit.