At Exodus Health Center, our very own chiropractor team consists of Dr. Shannon Good, Dr. Andrew St. Bernard, and Dr. David Jockers. We take great pride in offering only the highest standard of care to each patient that comes into our office, and our ultimate goal is to help you achieve optimal health and wellness through non-invasive and drug-free chiropractic techniques.

One of the more common problems that bring patients into our office is that of ongoing neck pain, which can be extremely debilitating and prevent you from enjoying your life.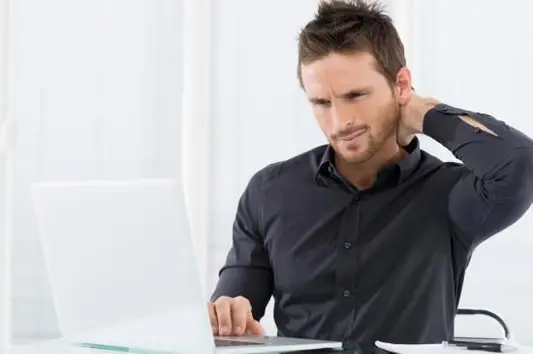 Common Causes of Neck Pain
There are many possible causes of neck pain, which occurs along the upper (cervical) spine. When you think about the fact that this section of your spine is responsible for supporting the entire weight of your head (around 10 pounds), it makes sense that neck pain is a common problem.
One of the more common causes of neck pain, believe it or not, is poor posture. This is especially true when you take into consideration how much time people are spending staring at smartphone screens, tablet screens, and computer screens these days. Over time, the angle at which you look down at these screens can cause strain on the muscles, tendons, and ligaments around the cervical spine.
Another potential cause of neck pain is that of whiplash, an injury that often occurs during a car accident when the upper spine is thrust abruptly forward. This injury can sometimes cause the fluid-filled discs between the vertebrae to become dislodged, too, which can also be extremely painful.
Chiropractic Treatment for Neck Pain
The good news is that we offer chiropractic treatment options for neck pain. These treatments are drug-free and non-invasive, so patients can enjoy the peace of mind that comes along without the side effects, complications, and risks that are often involved in more invasive treatment options.
One of the more common treatments we offer for neck pain is that of spinal adjustment, which can help to improve spinal alignment and relieve pressure on nerves that can otherwise cause pain. This treatment is extremely effective at relieving neck pain caused by poor posture and spinal misalignment.
Furthermore, we can assist you with corrective exercises and lifestyle changes that can help to promote healing and avoid future neck pain. These can be especially useful if you have poor posture, as these exercises and lifestyle changes can help you take better care of your spine. This, combined with our nutritional counseling services, can help you find the natural pain relief you need.
Request an Appointment With Our Kennesaw GA Chiropractor
If you're tired of dealing with ongoing neck pain, why wait another day to schedule an appointment with our Kennesaw GA chiropractor? Contact our team at Exodus Health Center by giving us a call at (770) 420-0492; we'd be happy to find an appointment that works with your busy schedule and take the time to answer any questions you may have.